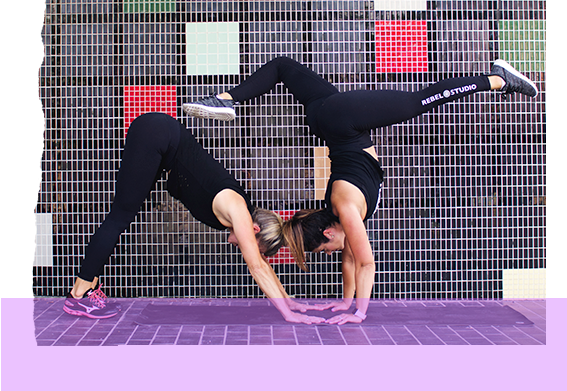 Who We Are
At Rebel Studio — your barre, cycling, and yoga studio in Jacksonville — we strive to create a comfortable space where Warriors of all levels can feel relaxed, inspired, and empowered. A wide variety of opportunities are offered every day to improve each individual's sense of self and the way they view their world around them.​
At our barre, cycling, and yoga classes, our goal is for each person to feel freedom in routine, invigoration in relaxation, confidence through self-control, and energy and strength within the mind and the body.​
We want everyone to feel comfortable in their own skin at our elite fitness studio in Saint Johns County! We want each individual to rock their practice and ride to create their own journey! We are committed to elevating ourselves and those around us. Because here, we're not just working out, we're transforming through intense, yet controlled, physical exercise. Physically, mentally, and spiritually, we transform at our studio. We hope to be your home away from home for yoga, barre, and cycle!
Yoga
Our yoga classes will challenge you and tone your body while enlightening your mind and growing you spiritually. Yoga combines meditation and exercise, allowing you to receive a holistic and balanced workout. At Rebel Studio in Saint Johns, we offer yoga classes for all experience levels so you can come as you are and reap the benefits of yoga. Take a look at our yoga class descriptions to find the one that's best for you.
Cycling
When you're looking for a low-impact way to burn calories and increase your heart rate, cycling is the perfect option. Cycling classes at our fitness studio in Saint Johns provide a major cardio boost while you pedal and climb your way through the course — all without leaving the room! If you're ready to get sweating and challenge your body, get signed up for our group cycling classes.
Barre
Barre exercise utilizes a ballet barre and traditional ballet moves combined with light weights, exercise balls, and other equipment. It is a combination of ballet, yoga, and Pilates (using your own body weight for resistance). Focusing on small, controlled, and deliberate movements, Barre allows you to fine-tune muscle groups, strengthen your core, and align your posture. Check out our Barre class schedule in Jacksonville and get signed up today!!